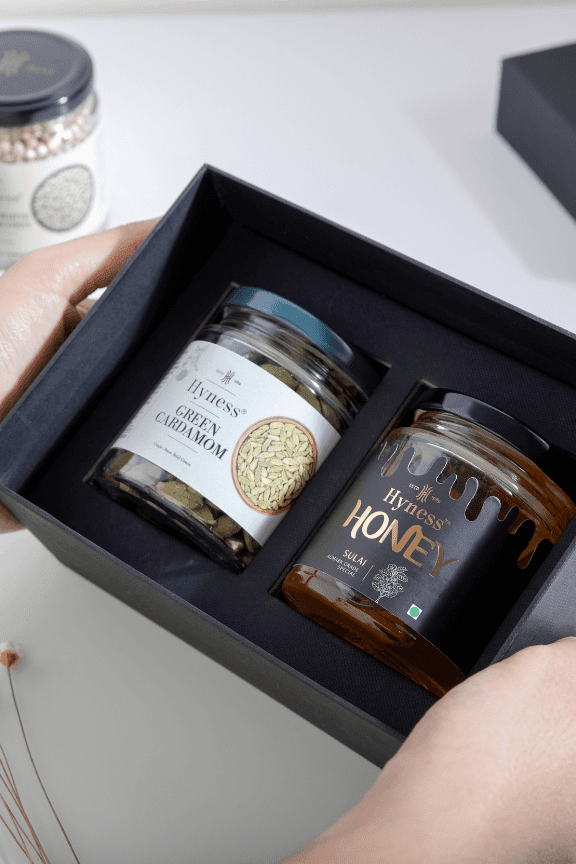 Our mission is to offer ingredients in their pure and natural form with no compromise on quality and health benefits.
At Hyness, we believe in giving people the transparency to reconnect with what they eat by understanding its origins. 
Honey, for some, is the colour of gold, for others, it's the nectar of a spring flower, but for us, it is the power of our dreams; the wonder of our childhood, and the source to our destination. Much early in their childhood, two brothers from Palakkad in Kerala found that the wild is packed with all the answers we seek - spiritual, material, and medicinal. Nature rests with it the power to nourish our body, mind, and soul. Honey is probably the best example that manifests this extraordinary power of the wild, nature.

Hailing from a family of farmers, it was natural that the boys encountered beekeeping and beekeepers in their surroundings. Their curiosity got the better of them and much sooner they realised their passion for honey. Rooted in antiquity and celebrated in the contemporary, honey is not only what some may refer as Manna dew but is truly a result of the romance between the bees and flowers.
Hyness found its name in His/Her Highness where the motive was to pay reverence to the producer - the bees, and the consumers. Hyness honey has travelled three decades of health and hygiene aided with ethical sourcing and a stubbornness to maintain its nutritional properties from source to consumption.
This journey saw a combination of traditional knowledge with organised form of education, thus, making Hyness Honey get stronger and better as a trustworthy brand, and growing steadily with 30 kgs/annum production to 300 tonnes/annum. An elixir trusted by saints, physicians, royalty, and Gods alike, it takes utmost care and precision to source, pack, and deliver honey that is not only fit for consumption but also replete with all its nutritional benefits.
Something sweet should always be accompanied by something spicy!
Determined to showcase the authenticity of Kerala spices, Hyness strives to bring the best out of the spices we serve, tantalising your senses and enhancing your culinary experience. The most defining moment in the history of Spice Route was Portuguese explorer Vasco da Gama's eventful journey to Malabar. Along the historic Spice Route, Black Gold ( the very dear black pepper) laid the foundation for colonisation and caused the rise and fall of mighty empires. In its day, the spice trade was the world's biggest industry. It led to the discovery of new continents, and in many ways helped lay the foundation for the modern world. 
Indulge in the aromatic and delectable experience Hyness has to offer.

#hyness.in
follow us on instagram