Litchi Honey
Extracting Time: March-April | Geographical location: Uttarakhand and Punjab
Regular price

₹

499.00

Sale price

₹

399.20

Unit price

per
The scrumptious variety is a house of flavours: a unique blend of tangy and sweet. When bees forage on the flowers of litchi they bring a fresh fruitiness to their honey which can be easily transferred to our fruit salads, pancakes, and waffles.
| | |
| --- | --- |
|  Kind of flower: | Agro-based Litchi |
| Scientific Name:  | Litchi chinensis (family- Sapindaceae) |
| Taste: | fruity and floral |
| Colour: | Light Yellow |
ESTIMATED SHIPPING & DELIVERY TIME

It usually takes 7-8 business days for orders to be delivered.
AGMARK SPECIAL GRADE

AGMARK is a certification mark for agricultural produce, assuring that they conform to a grade standard notified by Directorate of Marketing & Inspection (DMI), Department of Agriculture, Cooperation and Farmers Welfare, Ministry of Agriculture & Farmers Welfare under Agricultural Produce (Grading Marking) Act, 1937.To know more about AGMARK Special Grade, click here.
crystallisation

Crystallisation occurs over time in most kinds of honey due to various factors. The floral source in which the bees forage influences the rate of this natural process. Cold temperatures can speed up the rate of crystallisation.

Keep your honey stored at room temperature and do not freeze until you prefer crystallised honey. While crystallised honey is perfectly edible and loved by a few, it can be liquified by placing it in hot water (not boiling) or sunlight.

Nutritional Information

Energy:320 kcal;Carbohydrate:80 gm;Natural Sugar: 80 gm;Added Sugar:0 gm;Protein:0 gm;Fat:0 gm;Sodium:17 mg;Potassium: 138 mg;Calcium:13 mg;Iron: 15 mg; Phosphorus: 5 mg
View full details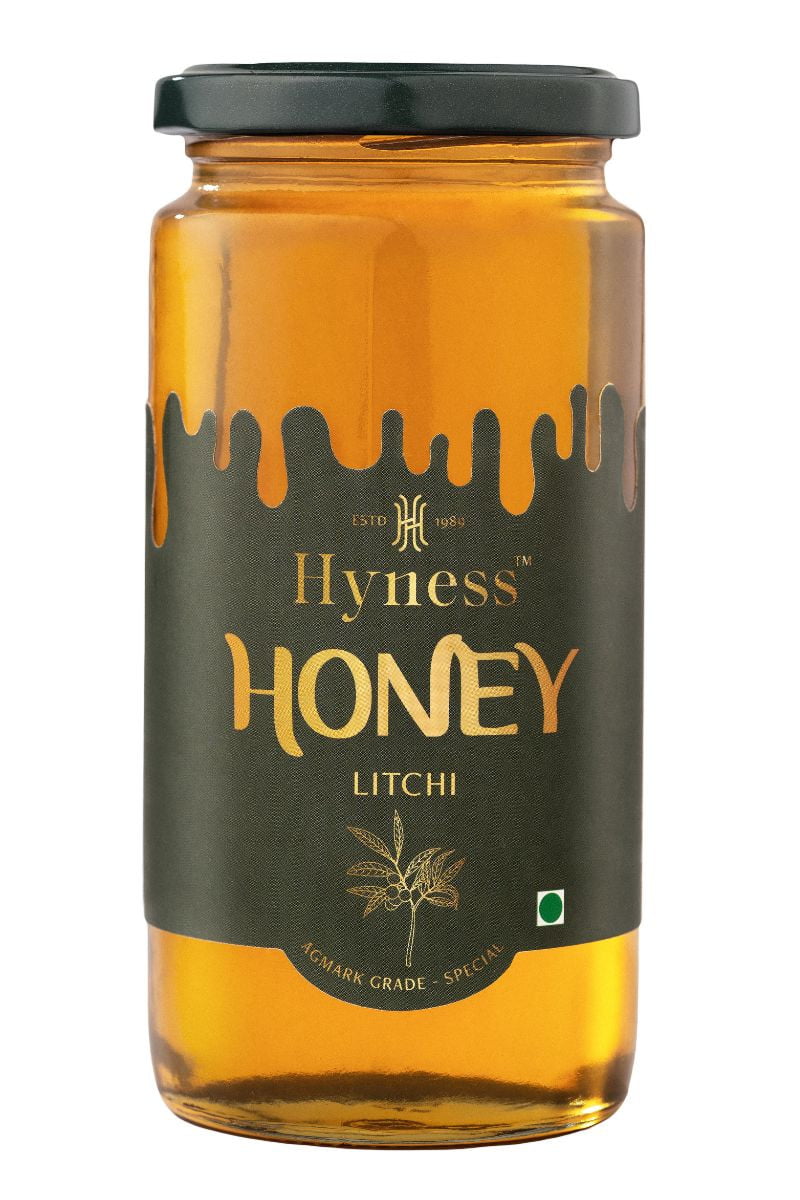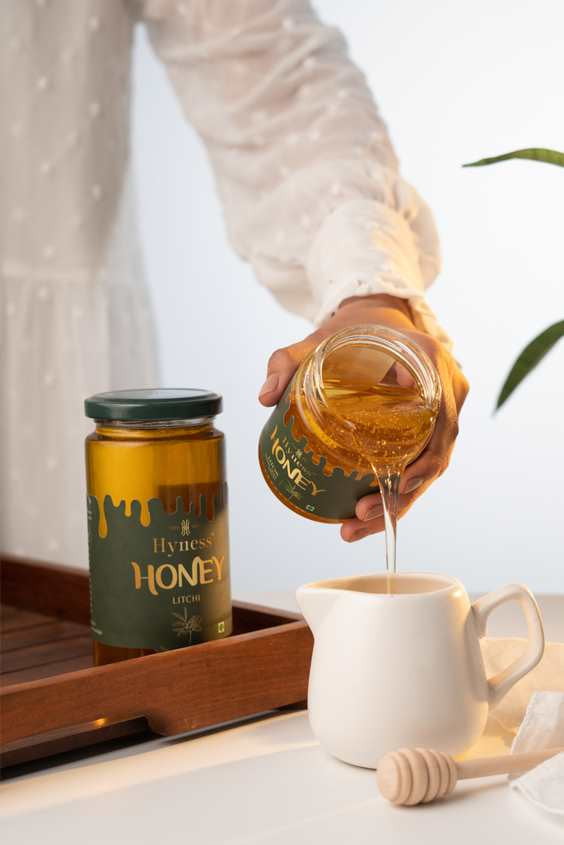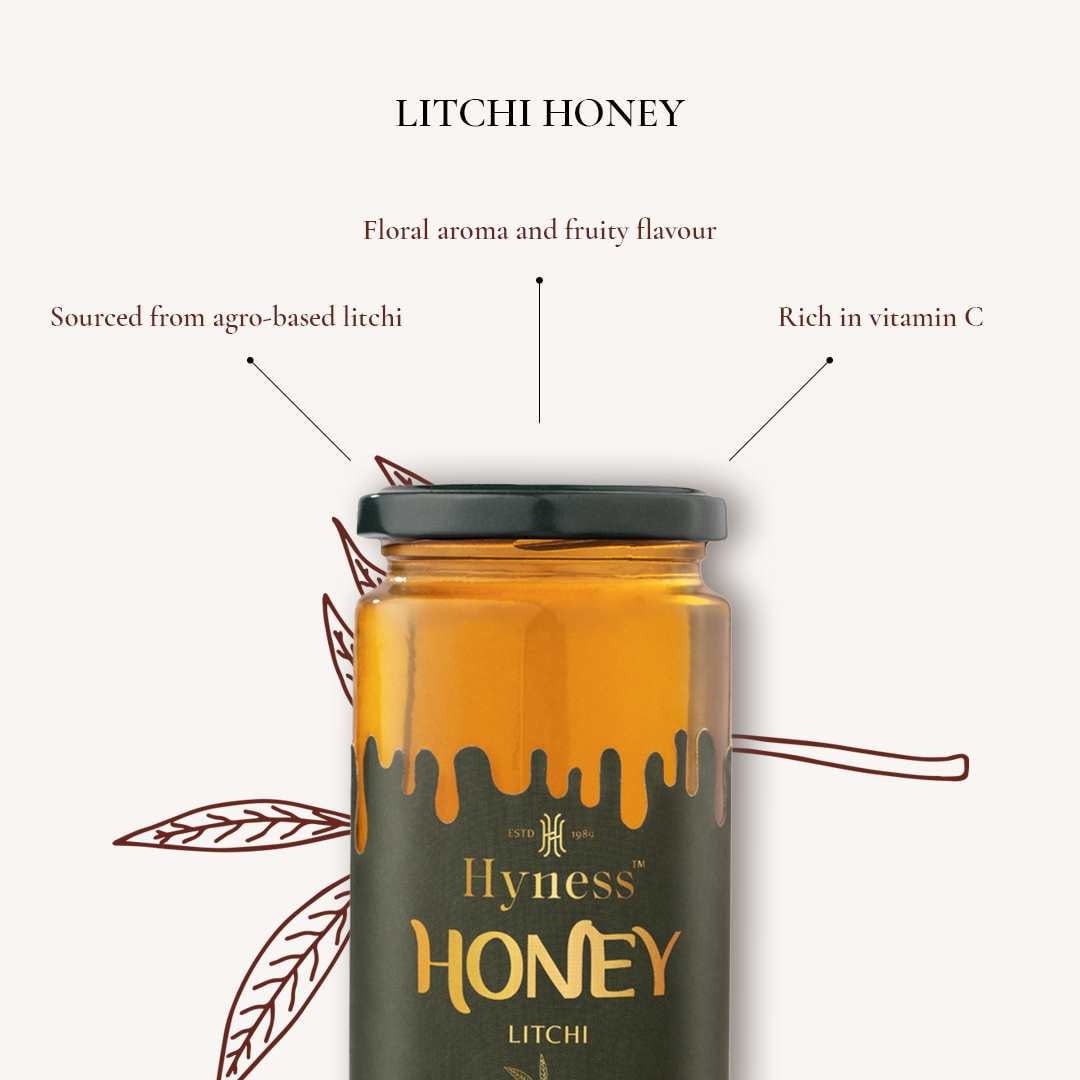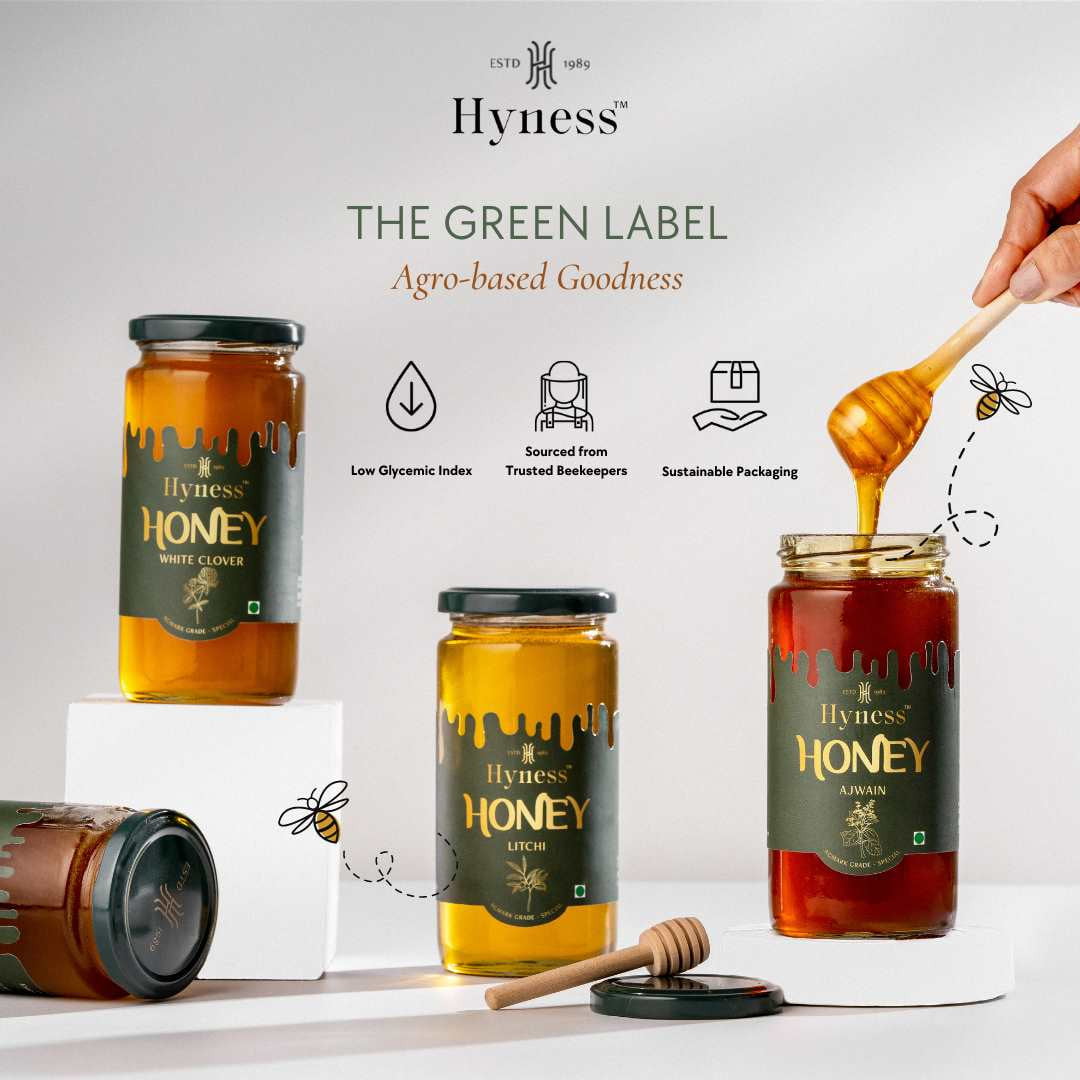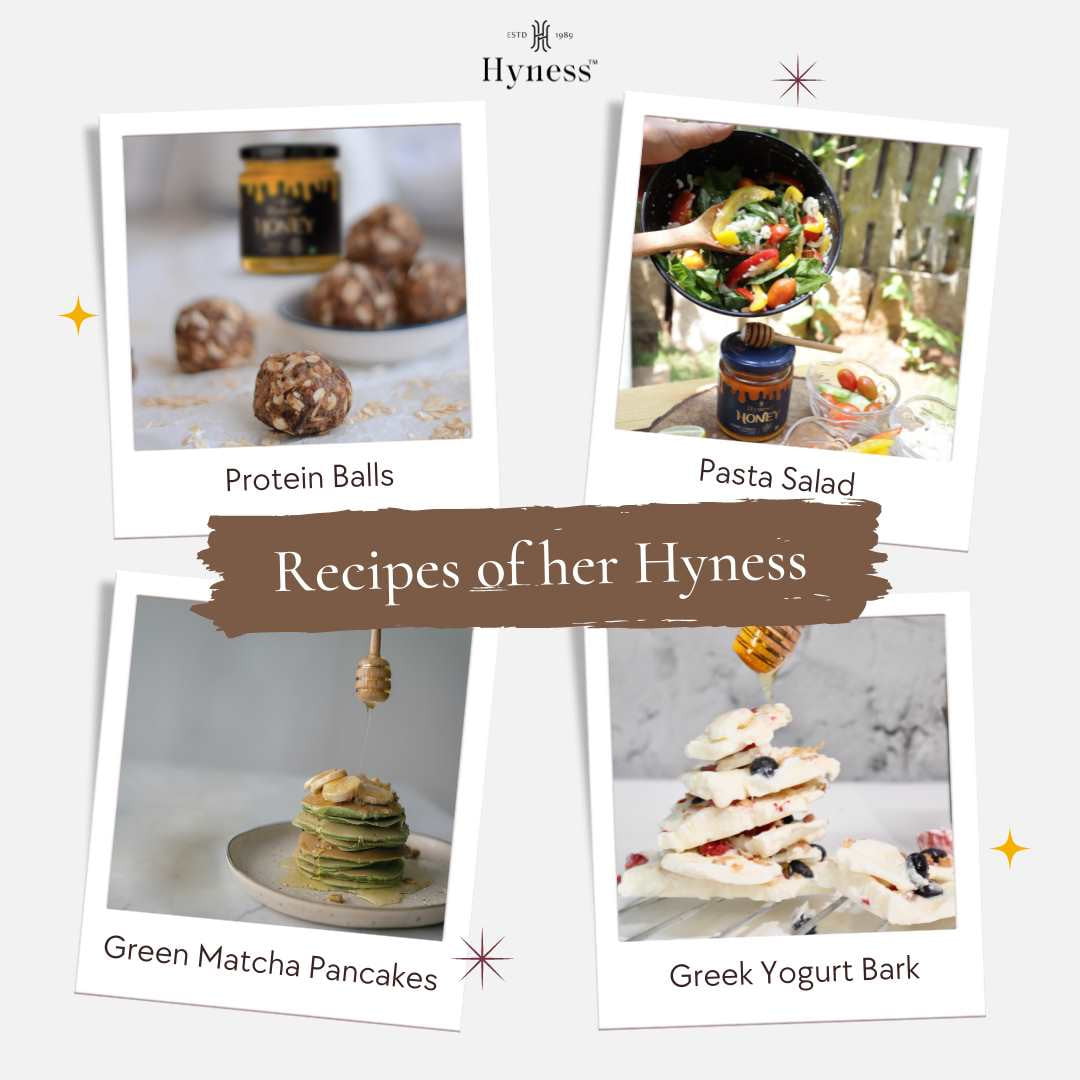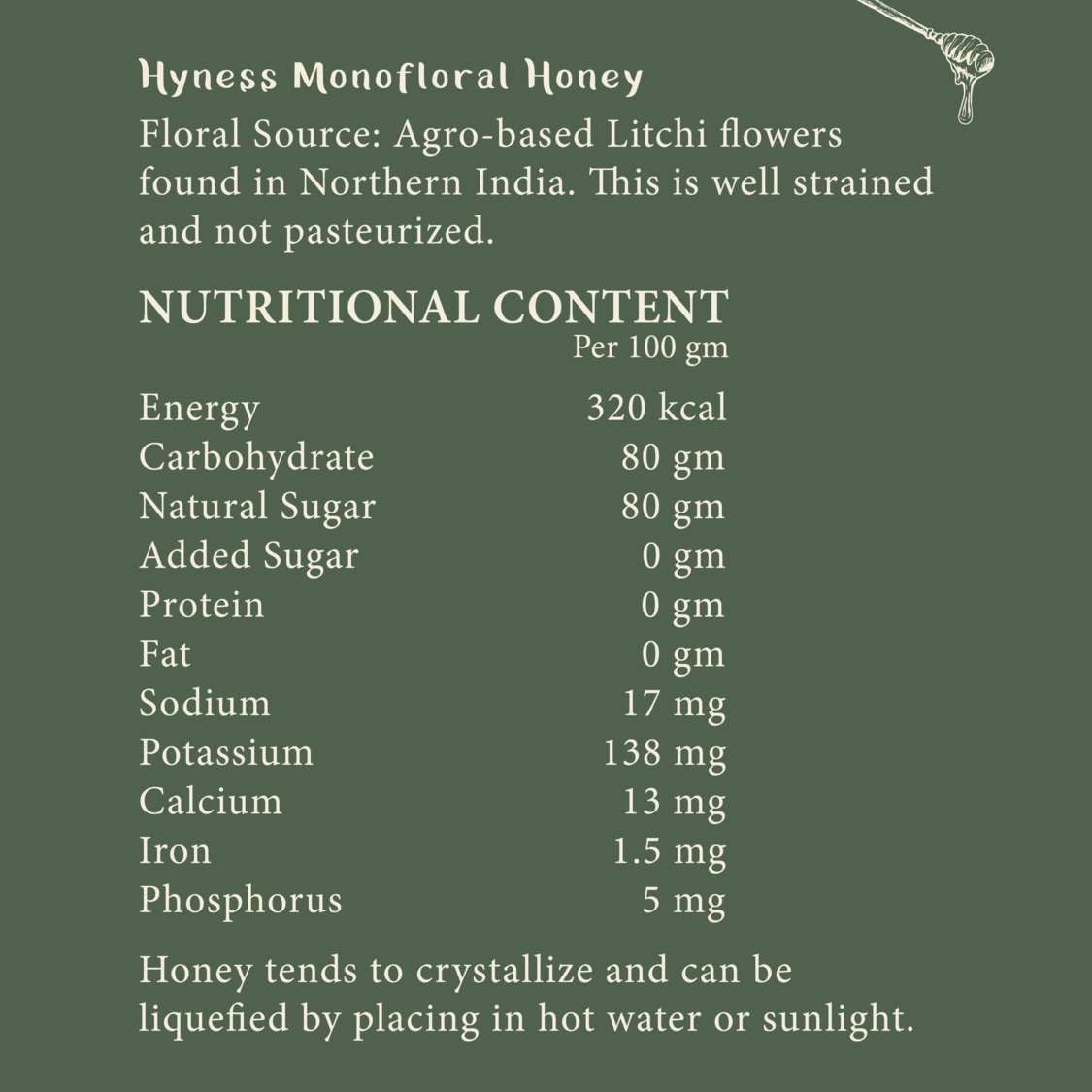 #hyness.in
follow us on instagram